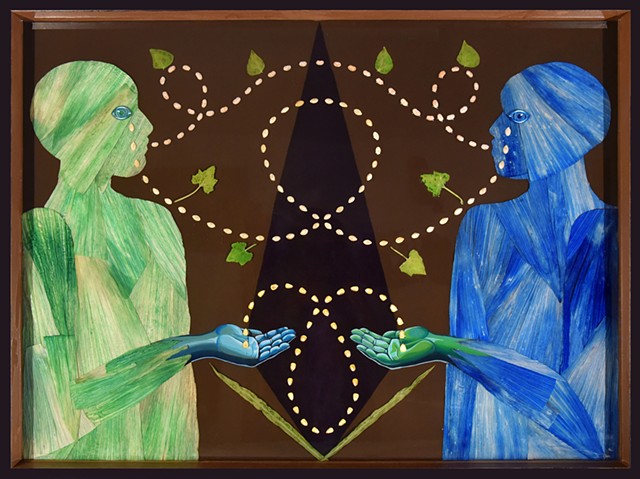 Mutual Aid of the Earth
acrylic, corn husks, corn, beans, squash seeds, leaves from the artist's garden, and resin on panel
30" x 40"
2021
Original Collected by Museo de las Americas, Denver, CO
Throughout the pandemic, we have seen a rise in mutual aid efforts, whether it be health care, providing groceries, sustaining organizations working towards social justice, and more. Mutual aid is based on concepts of solidarity and community care that are required when the systems of power that exist fail to support our basic human needs. It's about taking responsibility to care for one another--compassionate cooperation rather than capitalistic competition--the whole rather than the individual.
This work speaks of our shared experiences and mutual aid that the earth gifts us, and that we may then share with each other, whether it be plants, food, seeds, or herbs. The hands share corn and the mouths share beans to demonstrate the sharing of resources and goods. The eyes share a trail of calabaza seeds speaking of the collective grieving that we have endured this past year. The palette is inspired by the land and water of the planet that gives us life.
The seeds and leaves represented come from las Tres Hermanas, or the Three Sisters: corn, beans, and squash, that have long been sacred Indigenous food staples. They work harmoniously as companions in the garden and in our bodies so that we may survive and thrive. When grown together, the corn provides a stalk for the beans to climb, the beans provide nitrogen to the soil, and the squash leaves provide shade to the roots. This lesson we gain from plants is that when we mutually care for one another and work collectively, we grow stronger.
Exhibited at:
The Biennial of the Americas
COVID-19 Memorial
Denver, CO
Opening September 9th, 2021
September 3 - 25